Jai. C. Salt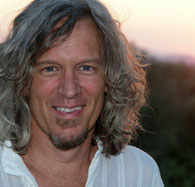 What has been my inspiration through all the years I have been working with Yoga and the Healing Arts, has been a curiosity for life's mystical paths. I began learning and practicing forms of energetic sciences and spirtual systems in my mid 20s, and it grew into nearly 30 years of experience exploring energy and movement as a personal developmental or healing art.

Before I discovered Yoga I owned a small recording studio, and was living the life of a musician, though I could say that I explored my talents in improvisation as much through travel as I did with music. It was travelling to the tropics in Far North Queensland where I first connected with my body as an instrument in itself. While this was not with Yoga, the Taoist energy practices I learnt certainly opened the door.

I first practiced Yoga in the late 90's at the Satyananda Ashram, where I eventually understood that Yoga was a universal philosphy, combined a great welath of opportunity to test and explore it, to see if it felt true for me.

In the early years of the new millennium I studied a 2 year full-time Diploma in Yoga Therapy with a base in Okido Yoga, concurrently with a 2 Year Diploma in Zen Shiatsu and this study allowed me to simplify the medicine of yoga into a system of the 5 Elements

Living in the Northern Beaches of Sydney, I taught daily Yoga classes, private Yoga Therapy and treated the community with 5 Element based medicinal Yoga themes for seasonal health issues at an alternative Medical Centre, Qi Nautral Therapies. I worked as a Yoga Teacher in very diverse fields, from Community Health, The South Australian Autism Society, to Professional Surfers with Quiksilver International.

Moving to India, following 2 years of learning Folk Medicine through Amazonian Shamanic Ritual in Columbia and Venezuela, I lived in the Yoga Ashram connected to the Sri Udupi Krisna Temple in Assi Ghat, Varanasi, where I practiced mostly Pranayama and Meditation, and a form of Iyengar Yoga.

I returned to Australia to study the extra-ordinary system of Holistic Kinesiology, with its clever ontological understanding of the kinetic spirit of being, and I contunied to further shape my years of using Yoga Therapy into Elemental Yoga Therapy, which I still teach today.


Within these studies I learnt the modalities of Holistic Counselling, Sound Therapy, Holistic and Macrobiotic Nutrition, Food as Medicine, Myofacial Massage and Meridian Science, dabbling in Acupuncture, and these tools have been folded into my work creating and teaching Elemental Yoga.

I spent several years living between India and Australia, immersing myself in various Yoga ashrams, courses and classes. The most memorable being my encounters in the Sera Mey Monastic University for Tibetan Studies in Karnataka, an immersion in Kundalini yoga in Varanasi, a Panchakarma process in Pune, and a pilgrimage through the Spiti Valley in Himachal Pradesh.

At the end of the decade I created The Elemental Yoga School, and I have been facilitating Teacher Trainings, Yoga Therapy Trainings, Retreats, Workshops and Private classes and courses since 2010 with the School.

Elemental Yoga is being studied by students from all over the world, and proving to be a wonderful approach to roots yoga philosophy and practices.

As an International Yoga Teacher I have worked and taught Yoga across the Globe in India, Australia, Indonesia, Japan, Thailand, Japan, Brazil, Venezuela, Guatemala, Bolivia, USA, Portugal, Spain, France, Italy Holland, England, Switzerland, Denmark, Norway, and Iceland.

Well, with so many interesting forms of Yoga growing through the wave, I hope you discover more than you can imagine in your search and find away to continue living with peaceful dreams of Earthlife for all :)

Hari Om Tat Sat