Teacher
Jai.C.Salt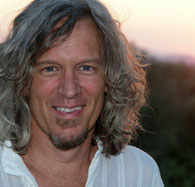 Jai. C. Salt is a Healer and Teacher with over 20 years experience in Yoga Therapy and Holistic Energy Healing, whose work is both unique and surprising. He is the Co-Director of Swara Yoga School, Energy Medicine Retreat facilitator, a Master-Teacher of japanese Zen Shiatsu, and is a Qualified Practitioner of Kinesiology, an Holistic Nutritionist, and has studied Connective and Remedial Massages in both Swedish and Thai styles. With 20 Years Clinic experience he has also been treating people with all levels of health issues, using other vibrational and movement based modalities as Holotropic Breathwork, Toyohari Accupuncture, Shamanic Healing, Qi Gong, Reiki. He is an Australian Qualified Natural Therapist and Holistic Counsellor.

Jai is an avid surfer and naturalist with a measurable background of sincere work (restored by travelling and playing gypsy music!) He is a highly informed, grounded and engaging communicator, especially on many natural medicine subjects, with a current passion for energetic sound therapies and spirit healing, valuing both Esoteric and Quantum philosophies, and has a deep love and respect for the Planet Earth and all those who he shares it with :)

From all Jai's work offerings, The Elemental Yoga Therapy philosophy sits as the crowning program, the leading and most challenging Course in Holistic Yoga Therapy Training world wide. The accumulated work based in his direct medicinal and energetic experiences, Elemental Yoga Therapy is a potent energy medicine training course, that takes Teachers from teaching the principle concepts of Tantric Hatha Yoga, thorough to learning how to teach using Yoga practices as a self funded energetic natural medicine. The philosophy and practices that run across all Jai's retreats and weekends stem from the magic of moving through the 5 Elements

To read about the success of the Elemental Yoga Therapy programs, please visit the Testimonials page to hear from some of the many past students.